Field Trip & School Bus Rentals
arcab provides a vast transportation network for school activities. Our spreads across the UAE with comfortable buses makes it easier for teachers, students and staff to travel.
Why arcab?
We never discriminate at arcab. Without compromising on space or convenience we listen to all our customers. The bus rentals that we provide can serve groups as big as 56 or as small as 8, offering a fun yet pleasant travel experience for every member. We have aided the following journeys in the past:
Educational field trips for classes UKG- 12th
Faculty meetings off site
Educations and college trips
Inter school Competitions
Demonstrations, marches and gatherings
For school and university games and competition
Almost all these trips have the following things in common: our undoubted commitment to customer service, a comfortable bus rental with personalized services and a qualified driver who completed the trip with the ultimate professional integrity. Our 24/7 reservation team enables customers to book trips at any time they want, helping them to stick to their own timetable with the aid of our customer service team. Also, we comply to 100% safety standards and security. Contact us at +971 55 203 8291 to learn more.
Field Trip & School Bus Rentals
arcab has an extensive transportation network with access to the latest charter bus and minibus models for your upcoming educational events. Our impact extends across all the 7 emirates to make travel easier for your staff, students and respective institutions.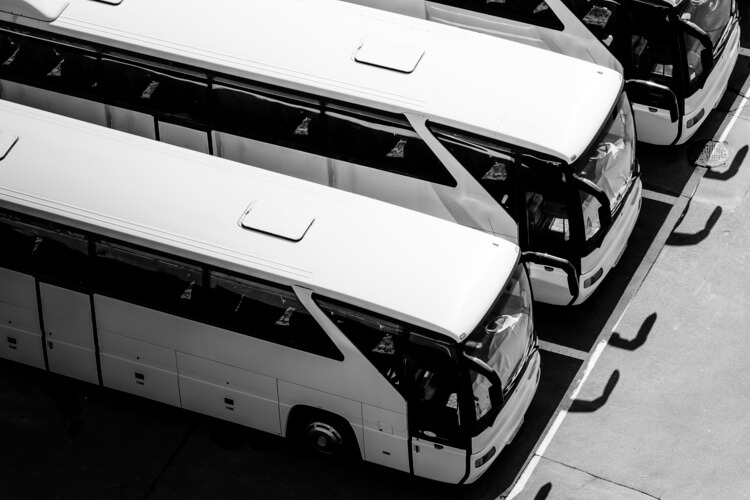 Why arcab?
At arcab we don't discriminate. We cater to all groups without sacrificing on space or comfort. The bus rentals we offer can accommodate groups as large as 56 or as small as 18, providing each party with a memorable yet intimate travel experience. In the past, we've assisted with the following trips:
Field trips for K-12 classes
Off-site faculty meetings
College tours
University-led research gatherings
Marches, protests and non-profit events
Sports travel for school or college teams
These trips all had the following things in common: our unquestionable dedication to customer service, a spacious bus rental with customized amenities and a trained driver who completed the trip with the utmost professionalism. Our 24/7 transportation service makes it possible for groups to book trips at whatever time they please, allowing them to adhere to their own schedule with the assistance of our friendly reservation specialists. In addition, all bus rentals in our network are up-to-date on all modern safety standards. Simply contact us at +971 55 203 8291 to learn more about the availability of certain bus rentals in your city.
Improved Field Trip Experiences
For your next field trip, stop traveling in a conventional school bus, instead consider booking a charter bus for a climate-controlled and enjoyable ride. A charter bus rental would allow you to add exciting facilities like a cozy reclining seats for fast naps, free on-the-go WiFi, flat-screen TVs and AV entertainment for educational content, announcement or headcounters . The travel will be less tiring and more fun for your students, teachers and other staff members.
Easy Off-site Faculty Meetings
arcab is able to have bus transfers off-campus in case the faculty needs to get away from the regular conference rooms. Through booking a charter bus, you'll make sure everyone stays together and reaches on schedule without traffic or any unexpected situations keeping them back. It's also important to remember that mingling on a shuttle bus is an excellent way to crack the ice before meeting.
Tour Colleges On Your Own Time
Our vast transportation system helps us to have bus rentals to every college campus. Instead of depending on unreliable public transportation, the students would be able to access every college campus or university with arcab. Your driver is going to make sure he drops you at the right place and on time so you can forget about getting late.
Travel Off-campus for Research Gatherings
Carrying out a big thesis project for your classmates? Instead of driving to the archeological site, park, lake, or laboratory in individual vehicles, opt for a bus rental so getting everybody in one location, under one roof is controlled. If your research includes traveling with substantial equipment, books, and documents, you can use the onboard luggage cabins to keep them secure. The free WiFi on the bus would therefore prove useful when you need internet access for some last-minute work, or when you need group selfies to upload on instagram to remember the trip!
Marches, protests and non-profit events.
arcab finds pride to provide transport for important marches, gatherings and campaigning for vital issues. If your school or university is taking part in activities like Womens March, Pinkathon or diabetes walkathon (to name a few), then we will connect you with the required shuttle bus for the occasion. Since traffic and overcrowding are typically a problem at these events, the easiest way to get to your destination on time is to ride in a bus rental without searching for several parking spaces for your squad and you can also store all your belongings.
Sports travel for school or college teams
Do you have a sports event coming up in your school or university? Simplify trips to all away tournaments, intramural athletics or physically demanding events with arcab bus rental services. A thletes can sit back and chill in the air-conditioned bus cabins, or listen to game-day songs or anthems in the bus rental over the loudspeakers. The wide baggage cabinets would also have ample room to store sporting equipment, duffle bags and game coolers. In addition, riding in a bus would guarantee the team a fun bonding experience without compromising space and comfort.
Travel Anywhere with arcab
Since we connect all over the UAE with 24/7 private bus transportation, there are countless possibilities for you to plan your educational trips with arcab. We have the best bus rental for every event, whether your plans lead you to career fairs, debates, basketball tournaments or even proms. Your booking expert will also tailor the onboard facilities available to enjoy the trip to the fullest.
Getting Started
In case you're hoping to lease a transport however you don't know where to start, we've assembled a couple of advisers to help start your journey with us.
Start by going through our complete guide to charter bus rentals to discover why charter buses are an incredible alternative for traveling in a group.
In case you're flooded about the variety of bus types, take a look at our guide to choose the suitable bus type for your group to decide on which bus to lease.
Pondering upon costs? Read through our pricing guide to see what you can expect before you call and get your free quote.
Our bookings are accessible day in and day out to help direct you through the rental procedure. Call us today at +971 55 203 8291 to secure your travel!