The cost of bus rentals and event transport is not one-price-fits-all. The overall cost is influenced by multiple factors including your destination, the time of year and the size of your group.

We are specialists in renting buses with more than 50,000 trips logged across the country. We've helped everyone from large corporations to small family groups find the best bus for their budget.

Use these average bus rental prices to build your budget:
| Bus Type | Per Hour | Per Day | Per Km | Per Month |
| --- | --- | --- | --- | --- |
| Van (10-15 Seats) | AED 70 – AED 90 | AED 600 – AED 900 | AED 12 – AED 20 | AED 7,500 – AED 9,000 |
| Luxury Van (10-19 Seats) | AED 250 – AED 350 | AED 1,500 – AED 2,500 | AED 20 – AED 35 | AED 35,000 – AED 50,000 |
| Minibus (22-34 Seats) | AED 80 – AED 120 | AED 700 – AED 1,000 | AED 13 – AED 25 | AED 8,000 – AED 13,000 |
| Coach (35-50 Seats) | AED 130 – AED 150 | AED 900 – AED 1,500 | AED 15 – AED 30 | AED 12,000 – AED 30,000 |
| A/C Bus (60-67 Seats) | AED 900 – AED 1,300 | AED 800 – AED 1,300 | AED 12 – AED 30 | AED 9,500 – AED 14,000 |
Average Bus Rental Prices
Because quotations are customized to the specific needs of each company, the actual costs can vary from those estimates. In this post, we will share examples of affordable charter bus rental offers, pricing considerations, and tips to get the most value out of your reservation.
Quick Navigation
Examples of Bus Rental Quotes
Example #1:
A Dubai-based technology firm is sending its marketing department to a two-day professional development conference in Abu Dhabi. To carry workers and their luggage to the event the company needs a charter bus with at least 50 seats. They will also be transported by their driver every morning and evening between the hotel and the venue.
We're glad to provide a coach for them to get there.
The technology company received a quote for AED 2,500 for their two-day charter bus rental.
Final cost: AED 2,500
Example #2:
A few months back, a football team from a university in Sharjah applied for a coach rental to transport the team to a stadium in Dubai for their final match. The team settled on a charter bus rental with a seating capacity of 50, with 25 players, four coaches, and a significant amount of equipment and baggage to carry to the tournament. They may have lost the tournament, but the best luxurious bus rental they have ever had was booked by their rookie player. Hamdan, you're the real MVP. (Image from Wikimedia) At the end of the trip, the head coach got a an AED 1,200 estimate.
Final cost: AED 1,200
Example #3:
A European Event Management Company was travelling to Dubai to assist in the preparation and production of a thrilling music festival in different parts of the city. They were looking for a mode of transport which could help their team of 12 crew members transfer from the Airport to the hotel and move around to their event locations with their equipment on board. They approached arcab as they needed transport for their team. arcab provided them with a 15-Seater Toyota Hiace Van along with a personal driver to help them comfortably move around the city.
With a successful end to their music festival. They enjoyed quick and safe movement across the city for their crew, they received a quote for 7 days along with airport transfers for arrivals and departures AED 5000.
Final Cost for 7 days: AED 5,000
Example #4:
Muhammad, the General Manager of a Construction company in Ajman contacted arcab through a call and requested for transportation of his labour team of 40 members on two different construction cites in Dubai. arcab sent him an exclusive quotation for 2 x 22 Seater buses for pick-up and drop-off for their morning and evening shifts on daily basis for a Year long Contract.

The labour team was provided with punctual and hassle free commute to their respective Construction cites. Muhammad was pleased with the service quality and professionalism after which he decided to sign a year long contract.

Final Cost of 1 Year Contract: AED 22,800 / Month
How did we come up with those estimates? Keep reading to learn what factors influence charter bus prices and how to get the best deal for your group.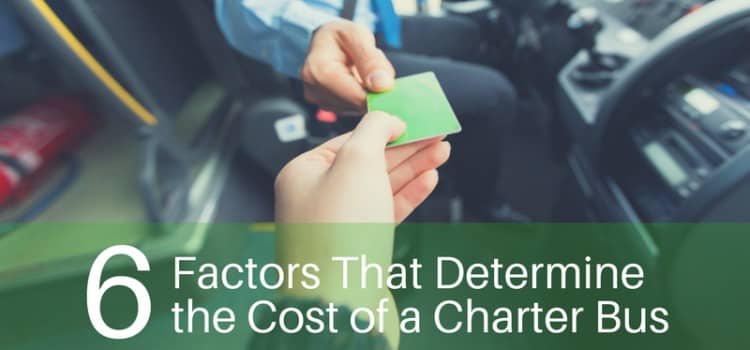 Factor 1: The Distance and Duration of your Trip
When preparing a quote for you, the representative of a transportation company will initially look at the distance you'll be travelling, along with the frequency of travel. Therefore, it is essential that you provide all the relevant pick up and drop off times and locations.
Buses are rented by the number of hours or the number of days depending on trip details. If you are travelling within the city limits of where the bus is stationed, you'll pay by the hour. Trips that are spanned across multiple days and long distance would be billed by the day. If your group needs transportation locally over a period of few days, such as multiple day conference, the bus company will most probably charge you by the day.
It is understandable that trip itineraries change at the last minute. Although this is not encouraged, your driver may be willing to accommodate the unplanned detours. This will result in additional charges, depending on the changes outside the original plan.
Factor 2: The Time of Year
Bus rates are seasonal, they tend to rise and fall. When schools are in session, people tend to book more buses causing the demand for those months to be high and supply to be low. On months when buses are unused, the transportation companies compete for business by lowering their prices. Months of April, May, July and August are least expensive months to book a bus as these are mainly vacation times. Events such as graduation, end-of-the-year school trips, family reunion and more drive March, June, September and December to notoriously expensive months to book a bus.
Factor 3: Your Starting City
Few cities such as Al Ain may not has as many bus rental companies compared to other cities in the UAE because there is not much demand for large commercial vehicles. Thus, when the supply is also low, some bus rental companies charge a premium price for their services.
If the pick up location for your group is a different city from that of the bus rental company's headquarters, your cost will be higher. In such a case, you may even be charged for the additional kms it takes for the the bus to travel from the headquarters to your starting location. This cost which accumulates while there are no passengers on board is known as deadhead.
Factor 4: Your Route's Travel Fees
Many routes include tolls such as Salik, parking permits and other additional fees. Few bus companies exclude these costs from their quotes, therefore it is advised to inquire if the costs are to be borne by you later or not. With regard to parking as well, it is suggested to ask the bus company to ensure parking facilities for the vehicle at the venue by contacting them directly, or you may make the call yourself.
Factor 5: Your Drivers' Shifts, Hotel, & Gratuity
All heavy vehicle drivers are recommended to take an 8-hour break after driving 10 consecutive hours. If your trip needs more than 10 consecutive hours of driving, the company will have to provide an additional driver. An additional driver may increase your cost, but your trip and group will be safer with well-rested drivers.Overnight trips necessitates you provide and pay for the driver's hotel. Ideally a hotel with excellent reviews would ensure the driver gets plenty of rest. Few hotels offer discounted or even free rooms for drivers when a group reservation is made. Inquire with the booking agent at the hotel about their policies earlier to choose the best option. Gratuity is usually not included in quotes and optional. A tip of 5-7% your total rental price in a separate envelope with cash may be given to your driver at the end of your trip.
Factor 6: The Type of Bus
The best value that can be generated from renting a bus is by filling the maximum number of seats as this will reduce the average cost per person. The type of the bus mainly differs not only on seating capacity but also on the storage space and restroom. Therefore the number of people along with the purpose and distance to travel can help you decide between a minibus or a standard size bus.
How about party buses, entertainer buses and scool buses? Party buses and minibuses are similar in size however they differ in the seat arrangement, the party buses have the seats along the sides. Party buses are equipped with fiber optic lighting, premium sound systems, flat-screen TVs, a mini refrigerator etc becasue of which the prices are quite high compared to other buses.
Since party buses have seats along the sides, there is plenty of room in the middle which serves as the main purpose for hiring such a vehicle.

The entertainment bus, which is also called a tour bus, are usually hired by bands and celebrities while on tour across the country. An ideal tour bus have the capacity to seat 8-12 passengers and comes equipped with a lounge area, kitchen, restroom, master suites and/or bunk beds and more.

These luxurious facilities are the main reason for prices being higher than a standard bus.School buses are almost always, lower in price and amenities. They are equipped with standard seats and ideal for daily commutes of short distances. For longer commutes, between emirates for example, a standard motor coach bus would be ideal.

If you are still not sure about which vehicle would suit you best, check out our guide for[hyperlink needed]
A Note on Payment Terms for Bus Rental Prices
Prior to booking your bus, inquire the deposit requirements with the service provider along with the payment schedule and cancellation policy. Expect an upfront payment of a flat rate fee or a percentage of the total bill. Most companies insist on final payment 3 days before the trip.
Top 6 Ways to Save on Bus Rental Prices
Now that you are aware of the factors that influence the cost of bus rentals, you are ready to call for quotes.Top 6 tips to lower your cost:
Ensure your itinerary has the route mentioned in detail along with every stop, to avoid unnecessary charges
Try to avoid last minute booking. Book your trip early before the seasonal factors increase the price.
Lower deadhead cost by hiring a bus within the same vicinity as your first pickup and last drop off point.
Before your trip begins, call the venue to inquire about parking facilities for the bus.
Inquire regarding discounted or free room for the bus driver with the hotel booking agent at the time of reservation.
Get the best value from the rental by choosing the right size of the bus for your group.
Bus rentals although standardized, may differ from one booking to another. Ensure to speak to a knowledgeable bus reservation specialist, who will use the details of your itinerary to provide you an accurate quote.Ready to find out your trip cost? Call us 24/7 for a quote!